40th Birthday Party Venues
Come celebrate achievements and embrace new beginnings

It's time to celebrate in a big way
The Best 40th Birthday Party Venue in Melbourne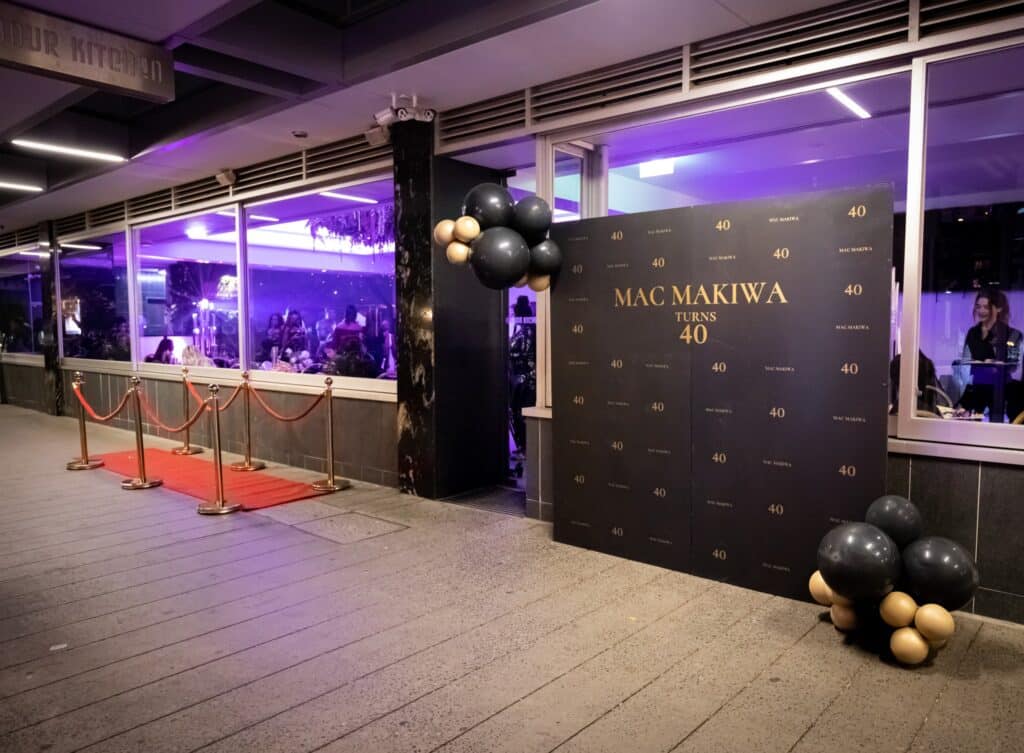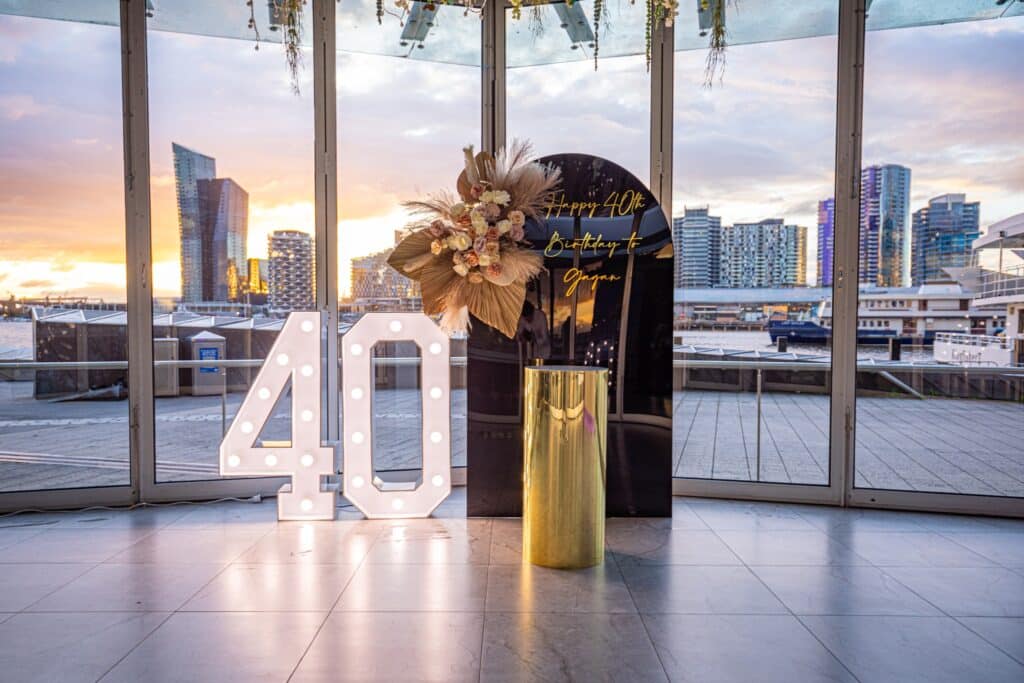 Design a lavish 40th birthday party
Turning 40 is a milestone worth celebrating, and at Harbour Kitchen, we understand that this event holds great significance.
Our team is committed to creating an unforgettable experience for you and your guests. As the premier venue for 40th birthday parties in Melbourne, we take pride in offering you a luxurious setting to design a celebration that speaks to your unique journey.
We are more than just an event space; we strive to make your special day a legendary moment in your life. With our unparalleled hospitality and attention to detail, we are confident that your 40th birthday celebration at Harbour Kitchen will be nothing short of extraordinary.
The perfect 40th birthday party venue in Melbourne.
At Harbour Kitchen, we take pride in our commitment to delivering exceptional service to ensure your 40th birthday celebration is an unforgettable occasion for you and your guests.
Our experienced event coordinators will work closely with you from the start of the planning process, through to delivering a seamless execution of your event.
Using our personalized and bespoke approach to event planning, we guarantee that your celebration will fully reflect your personality and individual style.
Unique Spaces
Melbourne's most unique function and event venues
Experienced Event Management Staff
Diligent and friendly 5-star staff
Mouth-watering catering
Seated service or Cocktail style party Flexible beverage package
Exclusive to private events only
40th Birthday Party Venues
Plan the perfect 40th birthday party in Melbourne
Harbour Kitchen for Your 40th Birthday
We believe that your 40th birthday is an extraordinary milestone that should be commemorated in style. Harbour Kitchen, our exceptional event venue, offers the perfect ambiance for a grand celebration that you and your friends will cherish.

We are dedicated to ensuring your comfort and satisfaction through our exemplary VIP treatment service that elevates you to the status of royalty. With adequate lighting, music, delicious delicacies, and a breathtaking view of the Victoria Harbour, we guarantee an exciting and unforgettable experience.

Our complete package is designed to meet your specific needs, with all the essential details thoroughly taken care of for a seamless and enjoyable event. This is a rare chance to celebrate a new phase of life, so seize the opportunity to make it count.

We urge you not to miss out on this fantastic opportunity to celebrate your milestone with an unforgettable birthday event.
Book with us today for an experience that will forever remain in your heart.
Contact Us for Your 40th Birthday Party
WHAT HAPPY CUSTOMERS SAY ABOUT US
This place is beautiful and just amazing. Grace was always delightful, super responsive and answered all my questions every time so quickly. Evan was also amazing. Food was generous and awesome. We had a great time thank you Evan and Grace x
Intimate venue, where staff are welcoming and special shout out to Evan Taylor, who managed the evening very well and excellent bar service. Thank you to you and your team
Absolutely amazing, staff were the best and made the event so enjoyable. Definitely coming back!!
Great costumer service, nice staffs and exciting location. Highly recommended. Additionally, they are very trustable and honest.
Absolutely fantastic! An unforgettable night that was loved and enjoyed by all. Grace and the team at Harbour Kitchen are amazing, their communication and service is second to none! A perfect venue with beautiful views of Docklands to have your next function, thankyou so much to Grace and team!
The venue is absolutely beautiful. The team and service at Harbour Kitchen were fantastic. Grace the event manager was very accommodating to our needs and requests. A great time was had by all. Would highly recommend this place.
Amazing venue to host your milestone celebrations. Grace and team left no stone under turned for making my day special and stress free. Specially out server Kate was just amazing and super helpful. I highly recommend the venue.
On behalf of Braybrook Sporting Club, we thank Grace and her team at Harbour Kitchen for allowing us to use their space and hold such a great even for our sporting club. Everyone enjoyed their night and everyone was so impressed with the quantity and quality of food provided throughout the night. All the staff were a pleasure to be around and were very kind. Thank you once again.
We held our Industry Night at this wonderful location for two years in a row and they have not disappointed us! Evan is a wonderful host who has been very accomodating to our team in organising the logistics of our event and we could not be more grateful! We recommend hosting industry events at this location, the venue is stunning and it's spacious enough to invite many people along!
We had a very memorable time, the food and beverages was fantastic, Grace and her team had done everything that was organised prior and was very attentive. Highly recommended
Harbour Kitchen hosted our business Christmas Party last week and we could not have been happier. The staff were extremely accomodating and attentive. The venue was beautiful with a great view of Docklands across the water and the indoor and outdoor space accomodated our staff and guests comfortably. The food was good quality, hot and there was more than enough to eat. Thank you to Grace and the team.
The quality of service provided by The Harbour Kitchen for PMI 25Y Celebration event on 30th of November was amazing. We sincerely appreciate the efficiency, gracious customer service, the level of detail and accountability that Grace and her staff demonstrated to serve our guests, and the way they conduct business as a whole. I would like to extend all our gratitude to your staff and also the DJ, they helped us to provide a memorable and one of the best events ever! We have, and will continue to, recommend your services to other companies and contacts. Our team could not be more satisfied with your work, and we look forward to continuing this relationship.
We had a Diwali Celebration in Harbour Kitchen and would definitely recommend this place for family party or corporate events or any special occasion . Grace and Evan were super helpful from the start of the booking and were completely cooperating till the end. Kelly was our host during the event, she was very nice and on her toes all the time to able to accommodate our requirements. Thank you so much HK for making our evening memorable and entertaining.
Amazing team to work with who go above and beyond !! Amazing place putting on amazing events. Highly recommend can't wait to have another event here !!
Book a site visit for further details.